The Smart Set: Lauren Cerand's weekly events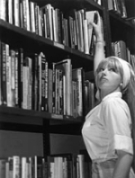 The Smart Set is a weekly feature, compiled by Lauren Cerand, that usually appears Mondays at 12:30pm and highlights the best of the week to come. Special favor is given to New York's independent booksellers and venues, and low-cost and free events. Please send details to lauren [at] maudnewton.com by the Thursday prior to publication, with the date in the subject line.

The Smart Set is late today because I slept in. Since I woke up, I've been drinking sweet tea, enjoying the breeze, listening to Chet Baker and not compiling events at all. My picks for the week will be up either tonight at 12:30am or tomorrow at 12:30pm; until then, I recommend all of the above.
UPDATED:
TUESDAY, JUNE 12: From the French Embassy: "I just wanted to let you know about the new French play opening Wednesday, The Devil on All Sides. It will be previewed tomorrow, Tuesday June 12, at 8:30pm, and will open to the public the following day (it runs through July 1). The play is set during the war in ex-Yugoslavia, and follows the haunting story of a Christian who falls in love with a Muslim. When it premiered in 2002, it was hailed as the "Best French Play of the Year" and "the Theatrical Discovery of the Year" by the National Critics' Syndicate. For its U.S. premiere, it is being staged by FoolsFURY, with a unique combination of physicality and poetry." At PS 122. P.P.S: "Use code FRA for $10 tickets!"
WEDNESDAY, JUNE 13: MaudNewton.com guestblogger Pia Z.Ehrhardt reads as part of Amanda Stern's Happy Ending Series, in the usual good company. 8PM, FREE.
THURSDAY, JUNE 14: Barnes & Noble's "Upstairs at the Square" celebrates its first anniversary with June's edition, featuring Armistead Maupin (Michael Tolliver Lives; is it or isn't it a sequel to Tales of the City?), and Elk City, a band whose lead singer the Village Voice describes as "like a female Bowie engaged in a three-way with Hope Sandoval and Patti Smith." [Full disclosure, as always: I am the PR consultant for this project] 7PM, FREE. And, the PAGE Series at the National Arts Club presents Min Jin Lee (Free Food for Millionaires), Manuel Munoz (The Faith Healer of Olive Avenue), and Helena Maria Viramontes (Their Dogs Came with Them). [Full disclosure, as always: I'm working with Min Jin to publicize her debut] 7PM, FREE.
FRIDAY, JUNE 15: The main thing I miss about growing up in the suburbs is all the sweet tag sales. Fortunately, charming historical landmark John Street Church holds a "courtyard sale," from 10 – 4pm.
SATURDAY, JUNE 16: Yuka Honda (of Cibo Matto), "celebrated for her soulful lyricism, funky breakbeats, and heartfelt melodies," continues Abron Arts Center's Blurring Boundaries Series. 8PM, $15.
SUNDAY, JUNE 17: Antoine Wilson reads from his buzzed-about debut novel, The Interloper, at KGB. 7PM, FREE.