Mississippi road trip and Faulkner pilgrimage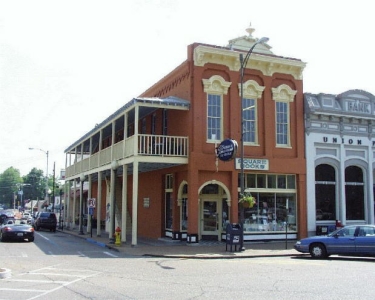 Later this month my beloved aunt and I are taking a road trip from Nashville, Tennessee, to Oxford, Mississippi, with quick stops in Memphis, Greenwood, and Drew. We'll be catching up and visiting family and drinking sweet tea, and she'll take me back to all the familial landmarks.
I spent lots of time on the Mississippi Gulf Coast as a kid and adult, but last visited the Delta at age eight or so with my little sister and (now-estranged) father.
Mostly what I remember about that childhood trip is that it was cold and gray and drizzling. Dad excitedly recounted the details of Civil War battles while Sister and I stood around in barren fields. Then, at his behest, we gathered up stray cotton bolls from the abandoned Newton farm to carry back to Miami in a burlap sack.
This time around, beyond the family spots, my aunt and I will stop at Square Books (above) and Faulkner's Rowan Oak. She made reservations at the Alluvian.
Square Books' Mary Warner — who recently interviewed the Lee Brothers of Southern cookbook fame for her blog, The Bedroom Reader — also recommends Turnrow Book Co. and about forty restaurants and other sites (including Greenwood's adult toy shop). I wish I had three days to follow her suggested itinerary to the letter.
We probably won't make it to Jackson to tour Eudora Welty's place. But, apart from Robert Johnson's grave(s) and the Drew town square, is there anything else we absolutely have to see?