Interviewing Auslander in violation of the Holy Sabbath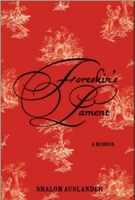 Saturday at 2 p.m. I'll break with one of my most cherished traditions — avoiding Book Expo as a slug would a salt mine — to interview Shalom Auslander about Foreskin's Lament.
Though he once walked fourteen miles from Teaneck, New Jersey to Madison Square Garden to attend a Rangers game on the Sabbath, Auslander is pragmatic in email about violating the Lord's Fourth Commandment to promote his memoir this weekend: "Fuck Him; if the Bible wasn't a best-seller every damn year, He'd be there, too."

If you're wandering around the Javits Center, please join us. If you can't make it, or can't wait, read Auslander's latest Nextbook column, What I Am Going to Write This Summer:
Flannery O'Connor had this to say: "Writing a novel is a terrible experience, during which the hair often falls out and the teeth decay." The memoir already did my hair in, and a childhood of Kedem wine took care of my teeth; if I finish this book with my genitals attached, I figure I'm ahead of the game.