The Smart Set: Lauren Cerand's Weekly Events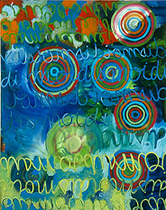 The Smart Set is a weekly feature, compiled by Lauren Cerand, that usually appears Mondays at 12:30pm and highlights the best of the week to come. Special favor is given to New York's independent booksellers and venues, and low-cost and free events.
Please send details to lauren [at] maudnewton.com by the Thursday prior to publication, with the date in the subject line.

MONDAY, 5.7: The Reader's Room presents The Raw Shark Texts at Mo Pitkin's. Highly recommended. 7PM, one drink minimum.
TUESDAY, 5.8: Lolita hosts an opening party for an exhibition of paintings — including Swim(Mo), pictured above, right — by ANNE-FRANCOISE POTTERAT, "inspired by life and lexicography in her native Lausanne as well as her experiences in the United States and Iran." We'll also be blessed with the sonic stylings of avant pop sensation DJ MAXX KLAXON. And cheap drinks! Details (Full disclosure as always: I put this event together just for fun). 6 – 8PM, FREE.
WEDNESDAY, 5.9: Amanda Stern's Happy Ending Series presents an evening with "Joshua Ferris, Michael Fitzgerald, Nick Bertozzi, Sheila Heti, with music from The Feverfew." Highly recommended. 8PM, FREE.
THURSDAY, 5.10: "Upstairs at the Square" pairs singer-songwriter ROSIE THOMAS (These Friends of Mine) with French author ANNA GAVALDA (Hunting and Gathering) for an evening of performance and conversation with host KATHERINE LANPHER (Full disclosure as always: I am the PR consultant for this project). 7PM, FREE.
FRIDAY, 5.11: In limited engagement at Village East Cinema, "the NYC theatrical premiere of Guy Maddin's new film, BRAND UPON THE BRAIN!, to be presented as a live spectacle with live orchestra, foley artists, castrato & celebrity narrators including Crispin Glover, Poet Laureate John Ashberry, Lou Reed, Laurie Anderson, Isabella Rossellini, Tunde Adebimpe of TV on the Radio, etc., etc."
SATURDAY, 5.12: At the Jewish Museum, The Sculpture of Louise Nevelson: Constructing a Legend: 'Louise Nevelson constructed her sculpture much as she constructed her past: shaping each with her legendary sense of self as she created an extraordinary iconography through abstract means…The sculpture for which she is best known was made of cast-off wood parts – actual street throwaways – transformed with monochromatic spray paint. Through her elegant room-size works, Nevelson regularly summoned themes linked to her complicated past, fractious present, and anticipated future… The exhibition will be the first major American museum survey of Nevelson's work in this country in a generation.' Through September.
SUNDAY, 5.13: "good words @ Good World, a new reading series featuring a different theme every month, continues with DRINK: MAX BLAGG, co-editor of Bald Ego, a magazine of literature and art… and DAVID LYNCH, author of Vino Italiano and The Vino Italiano Buying Guide… He is General Manager of Babbo Ristorante." 5PM, FREE.