American Youth, on Maaza Mengiste's recommendation
My friend Maaza Mengiste extols the virtues of Phil LaMarche's first novel so passionately that I asked her to jot down some quick impressions in advance of the Debut Lit reading she's hosting on Saturday night at KGB. Here's what she sent.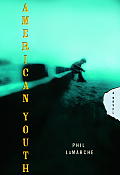 The title of Phil LaMarche's American Youth is as spare, and ultimately as loaded, as his prose. The protagonist, Ted (more often called "the boy"), finds his world suddenly collapsed when a shooting leaves his friend dead and his mother makes him lie about his role in the accident.
Events this big might seem to need build-up in a book, but they happen right away in American Youth, and are where the story naturally begins — in the backwoods of New Hampshire, in a town struggling to keep its identity and economy intact despite the intrusion of big-city developers. Befriended by a group of hard-line conservative boys who call themselves American Youth, Ted blames himself when they seek to exact vigilante reprisals because of his lies.
LaMarche's stripped, bruised landscape is a perfect foil for the tension and violence that unfolds in these pages. Mary Karr says American Youth "runs hot as a pistol." Jerry Stahl and George Saunders have praised its insights and taut, clean prose. But what makes this book so electrifying, and earns it a place among the most outstanding debuts, is its voice. LaMarche takes a storyline that could easily swing into cliché and offers us the earnestness and confusion of a boy who's succumbed to self-mutilating guilt. American Youth is, at its core, about the grace that awaits those who have the courage to take it.

If you'd like a copy, be the first person to email me at maud at maudnewton-dot-com. Bill of Durango, Colorado wins this round. For everybody else, here's an excerpt.