Apologies from the corrections department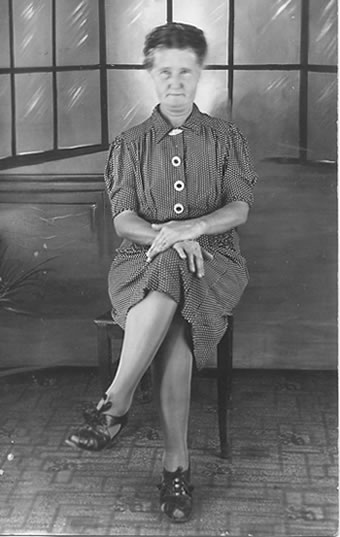 Meet Rindia Bruce, my mom's paternal grandmother and a woman to whom I owe an apology. I mistakenly believed she was the ancestor who killed her last baby by beating its head against the doorstep. My mother recently clarified:
You are mixed up with my grandmothers. Gran Rindia was a Pentecostal holy roller!! 
It was Rebecca Johnston ("Mammy" Johnston), Zone's mother and my great-grandmother, who killed her baby. Granny only told me about one — I don't know if she killed more or not. Remember, she had umpteen children. As far as I know Mammy didn't get in any trouble — don't know if anyone missed the infant(s). The way they dressed back then, a woman could probably hide pregnancy pretty easily under all the clothes. She hit the baby's head on the back door stoop.
She and most of her children (including Maud) dipped snuff. I remember each Johnston carried a can around to spit in and after a meal we all would sit in the living room and each one would spit from time to time and argue and fight.   Zone's family was a striving, hell-raising bunch!! I hated being there.
Mammy died when I was about 5-7, and then we didn't visit anymore. I remember sneaking upstairs as Granny and all the other women around began undressing Mammy and cleaning her up after she had died. It was scary. No one knew I was there. I stood on the steps just high enough to barely see and listen to what they were saying.
Mammy was rather a fearsome lady. Of course, she was kind of grouchy and old, but I don't recall she ever said a kind word to me, nor did she ever cuddle me or do any of the things grandmothers are supposed to do. It is not too hard to believe what she did — she was probably tired of all the children and probably couldn't picture another mouth to feed and another baby to take care of and rear to adulthood. [Ed. note repressed.]
Rebecca Johnston is pictured in this photo (back row, second from left) with her husband and surviving children. Gratuitous literary link: Euripides' Medea.