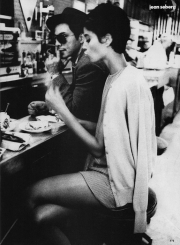 THU, MAY 14: "Upstairs at the Square" kicks off a celebration of three years of innovative and eclectic programming with an evening featuring Aleksandar Hemon (Love and Obstacles, the highly anticipated story collection from the MacArthur winner and National Book Award and NBCC finalist) and Alina Simone (Everyone is Crying Out to Me, Beware, which covers songs by Siberian punk-folk singer Yanka Dyagileva, who mysteriously drowned in 1991) performing and discussing their work in conversation with host Katherine Lanpher. 6PM doors, 7PM show; FREE. Next: May 26 (China Mieville & Japanther), June 16 (Carlos Ruiz Zafon & Las Rubias del Norte).
MON, MAY 18: Filmmaker (Mad Hot Ballroom) and author Amy Sewell reads from her new book, She's Out There: Essays by 35 Young Women Who Aspire to Lead the Nation: The Next Generation of Presidential Candidates, with contributors — White House Project Founder, Marie C. Wilson, Harlem middle school student Fiona Lowenstein, who has interned for New York Congresswoman Carolyn Maloney; Albany-area resident Ingrid Tighe, a former U.S. Army captain who trained Iraq's first all-female military company; Macalester College student Kyera Singleton, who has interned with N.J. state politicians working on educational reform; Duke University student Kelly Tully, who interned with then-Senator Hillary Rodham Clinton, both before and during her presidential campaign; Columbia University student Cameron Russell, who is the founder and director of Interview New York and a model; and Kara Silverman, Communications Manager for the Avon Foundation for Women, who is running for Hudson County's Democratic Central Committee — at Barnes & Noble, Tribeca, to benefit Girls Write Now. 7PM, FREE.
The Smart Set will return on May 25th.