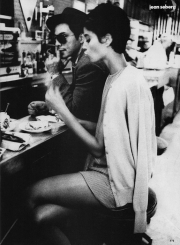 TUE, JAN 27: "Housing Works Bookstore and Granta present a Night on Fathers with award-winning novelist Jonathan Lethem (Motherless Brooklyn) and international bestseller Joseph O'Neill (Netherland) for a reading from Granta 104: the "Fathers" issue. Following the reading, Granta US editor John Freeman will moderate a conversation between O'Neill and Lethem about the tricky art of writing about their fathers, literary forefathers, their fathers' reactions to their work, and the best literature on fathers they have come across in their own reading." 7PM, "Admission is free, donated books are welcome and encouraged." And, 192 Books hosts an evening with Stacey D'Erasmo: "In The Sky Below, Stacey D'Erasmo creates a character—and a world—characterized by Cornell-like boxes." 7PM, FREE.
WED, JAN 28: Wildly creative playwright Clay McLeod Chapman is set to blow minds at 92YTribeca: "Inspired by the myth of Theseus and the Minotaur, Teaser Cow is set in the wild place where Greek mythology meets Fast Food Nation. Fast-paced, intense and satirical, Teaser Cow explores how and why we create society's darkest monsters out of our deepest fears. Founded in 2000, One Year Lease is a New York-based, internationally-touring theater company made up of American and international artists who share a love for the classics." Highly recommended. 7PM, $10. Also, The Beatrice series (I would propose, as Lord Byron suggested, "The reader is requested to adopt the Italian pronunciation of Beatrice, sounding all the syllables.") presents novelists Jennifer Cody Epstein (The Painter from Shanghai) and Fiona Maazel (Last Last Chance) at the Mercantile Library Center for Fiction. Also highly recommended. 7PM, FREE.
THU, JAN 29: At McNally Jackson, Indie Press Night focuses on Persea Books and two of its luminaries: Sarah Gambito is the director of the Asian American poetry organization Kundiman; her new poetry collection portrays immigrant identity with revealing Surrealist imagery. Patrick Rosal's electric narratives and portraits are modeled on the kundiman, a love song sung by Filipinos for their country in times of oppression. 7PM, FREE. At KGB, a reading for the new issue of The New York Tyrant, "a tri-quarterly literary magazine based in Hell's Kitchen, focusing on the immediacy of the short story," highlights contributors Eva Talmadge, Justin Taylor and Brad Gayman. 7PM, FREE. Also worth mentioning, photographer Michal Chelbin will discuss "her first monograph, Strangely Familiar, a provocative collection of photographs that depicts performers and wrestlers from small towns in the Ukraine, Eastern Europe, England and Israel," at The Strand. 7PM, FREE.
WEEKEND: On Friday night at Japan Society, "Born in Vancouver in 1931, Kazuko Shiraishi is one of Japan's foremost poets. Influenced by abstract art, experimental literature, and avant-garde jazz, she is beloved by readers around the world for her humane vision: through her poems she "meets her living self/pretending to be a dead body but fully alive." The new collection, My Floating Mother, City, contains poems from her most recent books published in Japan, including The Running of the Full Moon (2004) and My Floating Mother, City (2003), which received the Bansui Poetry Award and a Cultural Award from the Emperor of Japan. Also included in the book are three long sequences including Sendai Metro, Greece Street, translated for the first time into English, and Little Planet, translated on a paper napkin by Allen Ginsberg. The program features a collaboration with jazz trumpeter Oki Itaru. Moderated by Forrest Gander, author and Professor of English and Comparative Literature at Brown University. Followed by a reception." Highly recommended. 6:30PM, tickets are $10.