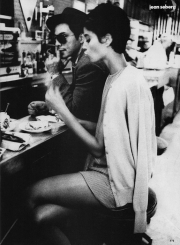 THU, JAN 22: Michel Gondry, the French Academy Award-winning screenwriter, film, commercial and music video director will talk about his work and read from his book, You'll Like This Film Because You're In It, at 192 Books. 7PM, FREE. In Brooklyn, Powerhouse Books hosts Independent Press Night, with your favorite publishing pin-ups, Johnny Temple (Akashic) and Richard Nash (Soft Skull Press), as they are joined by politically inspired authors Amiri Baraka and David Rees. 7PM, FREE.
FRI, JAN 23: Let The Right One In is the book-to-film teenage vampire love story you should see. In theaters.
SAT, JAN 24: Don't miss your next-to-last chance to see William Eggleston's Democratic Camera at the Whitney.
SUN, JAN 25: "THE DRAMA BOOK SHOP in association with the SHAKESPEARE'S SISTER COMPANY presents a staged reading of Edna O'Brien's award-winning stageplay 'Virginia' in honor of Mrs. Woolf's 127th birthday. Edna O'Brien's spectacular play encompasses Virginia Woolf's mercurial inner life, as well as the relationships of her three great loves: her husband, Leonard; her lover, Vita and her greatest writings. Ms. O'Brien touches the heart and captures the essence of Virginia's character and brilliant mind. Plus a post-performance Q&A with author, Anne Fernald. All performers appear courtesy of the Actors' Equity Association. The Arthur Seelen Theater is located on the Ground Floor of the Drama Book Shop at 250 west 40th Street between 7th and 8th Avenue. 12:30PM, Event is free to the public with a suggested $10 donation in support of the Shakespeare's Sister Company."