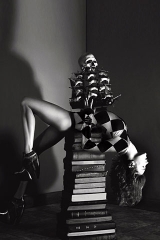 THURSDAY, 9.20: The 92nd Street Y presents an essential reading: Edwidge Danticat and Zakes Mda. $10 tickets for under-35s are a true innovation and it's great to see them expanding their audience. Thursday's a perfect day to discover the Y if you've never been. Downtown, Levi Asher and his hooligan beatnik chums take over the Bowery Poetry Club. Can you dig that Happy Hour, man? I'm already deciding what to wear. 6:30pm, $6.
FRIDAY, 9.21: Mississippi phenom Kate Bingaman-Burt's Obsessive Consumption opens at jen bekman. 6 – 8PM, FREE.
SATURDAY, 9.22: I usually consider it worth a trip to the Low Countries to view artistic masterworks, but in this case, the Upper East Side is much more convenient as the Met presents "The Age of Rembrandt."
SUNDAY, 9.23: At Anthology Film Archives, "Loosely adapted from DON QUIXOTE and largely inspired by Robert Bresson's LANCELOT DU LAC and Apichatpong Weerasethakul's BLISSFULLY YOURS, QUIXOTIC is a captivating celebration of landscape, a wry rumination on the theme of idealism and a daring exercise in cinematic minimalism. In Albert Serra's version of Cervantes' chivalrous comedy, the elderly knight and his companion Sancho pass the time bathing, bickering and bumming around…Yet Serra punctuates the proceedings with sublime moments of grace, wonder and tenderness." –Jason Anderson, EYE WEEKLY" 2006, 110 minutes, 35mm. In Catalan with English subtitles. U.S. Theatrical Premiere Run!
Soundtrack to this post: Anything by Omaha outfit CAPGUN COUP, which played the (Downtown) Omaha Lit Fest closing party at the library and is surely destined for big, big things. I was tote-ally starstruck when I saw one of the band members at Film Streams the next day. Tote-ally.