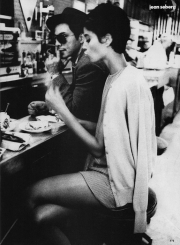 THU, MAR 26: Says American Editor John Freeman, "Granta is having a party next Thursday, March 26th, at Idlewild Books on 19th Street off 5th Avenue to launch our new issue, which is themed to Lost and Found. We've got some great pieces inside by AL Kennedy, Jan Morris and a fabulous essay on China, 20 years after Tiananmen Square. We're going to have some wine and some Granta contributors (from New York and elsewhere) on hand." 7PM, FREE, RSVP to events@idlewildbooks.com [Full disclosure as always: Idlewild Books is one of my publicity clients, and Maud is one of the Granta contributors who will be attending].
FRI, MAR 27: Daria Martin's MINOTAUR, which just ended its run at the New Museum is wild, elemental, my kind of art (the kind you see in the dark). Maybe something similarly intriguing has taken its place?
WEEKEND: "Nicelle Beauchene Gallery is pleased to present the first New York solo exhibition by Sarah Crowner. Transforming the legacy of hard-edged geometric abstraction, specifically from the 1950s and 1960s (e.g. Victor Vasarely, Lygia Clark, Olle Baertling, Bridget Riley), Sarah Crowner employs both original and appropriated compositions as patterns and templates to construct paintings that exist as hand-built objects." Through May 3.