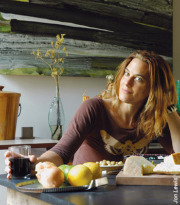 It was totally scary. She's so not me. Because we're the same age, and because people confuse fact and fiction, inevitably they will think it must be autobiographical, and that Josie must be some version of me. I felt about Josie much the same way I felt about Hugo and Jeremy and Claudia, who also is and is not me: a feeling of identification with them but also a sense of detachment. Jeremy Thrane is the most like me and that is the most autobiographical of all my novels.
And he's the one least likely to ever be confused with you.
Exactly. Because he's a gay man. I find Josie to be kind of annoying sometimes — annoyingly opaque and clueless and kind of self-involved. I wanted to make her flawed and not heroic. Those are the kind of people I find most interesting. If she's a part of me, it's not my best self. Often I choose characters who express not my best self, but the sides of me I haven't developed or haven't expressed.