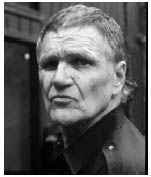 So about the best chance I had was the sort that usually picks up boys wearing washed-out bib overalls with both knees worn out. It goes without saying but I'll say it anyway, you had to be careful with those suckers. It seemed when you were hitchhiking that men alone in pickups or cars had never heard of women and pussy. And if any one of them ever starts to talking about how much pussy he gets, or he just knows a young stud when he sees one and he bets you get a lot of gash, wait for the next red light and get out. Or if he takes a corner really slowly or has to stop for a crosswalk, bail out.
This sounds chickenshit, but if he turns off a paved road for no reason and goes down a dirt road into the woods, you might as well just give it up. The chances are on your side, if you don't make a fuss or a fight and pretend (which at times is not all that hard to do) to like it a little by moaning and groading, that you'll get away without a mark on you.
Jesus, I can hear the whispers and voices from here: "Crews is a fag, latent or otherwise, but still a fag. I'd never do such a thing. He'd have to kill me."
Yeah, and he might do just that. Go look down the barrel of a gun or feel a blade on your throat and then come back and talk to me about dying being better than getting your dick sucked. I have no time for assholes who have lived under their mothers' aprons all their lives.