Practical city living #10: The inner lives of mattresses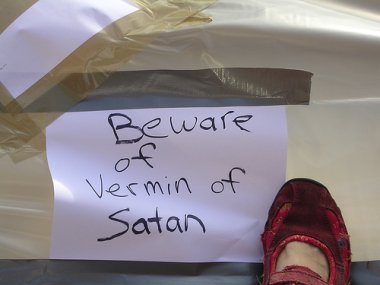 New Yorkers: In case you didn't know, the city is battling a whole new breed of vermin. New to us, I mean. Old to humankind. Pliny and Aristophanes both wrote about these pests. One is a character in the Tales of Bidpai. The scourge even predates King Tut.
It is often pointed out, by the media and politicians alike, that 311 bed bug reports still number only in the low thousands. But I know at least a dozen people who've fought these things, and none of them has, to my knowledge, notified the city. In general victims call only if their landlords refuse treatment altogether.
Earlier this morning GMB forwarded a McBrooklyn post, Beware of Garbage With Something Written on It. Good advice! May I also present, for your delectation and delight, Mangy Cur's Infested (from which the shot at the top of this post was taken)?
I'm going to take McBrooklyn's warning one step further: Steer clear of curbside finds (and, really, used furniture) altogether. Bed bugs don't just live in mattresses. They hole up in wood. They thrive in paper. They even camp out in electronics. They hide all day, coming out only to feed, and once inside a building, they move easily between apartments.
Based on the suspicious collections of refuse I see on the streets, I'd bet good money that few people discarding infested items actually bother to wrap them in plastic. Pass the Astral, at 76 India, the night before trash pickup, and you're likely to find a motley collection of mattresses and rugs, armchairs and bed frames, none of which are labeled, although some bear visible signs of a problem. Mae West may once have lived in the building, but a squadron of wild horses and a year's free rent couldn't drag me there now.
And yes, Greenpoint, my old neighborhood, is a hotspot and has been for years, but the plague isn't confined to any one area. It's in Manhattan, it's in Queens. It's even, according to some reports, invaded the subway.
On my way to work yesterday morning, I passed a couch and two twin mattresses, all wrapped in plastic. When I was returning home last night the couch was still in the same spot. The bedding was gone.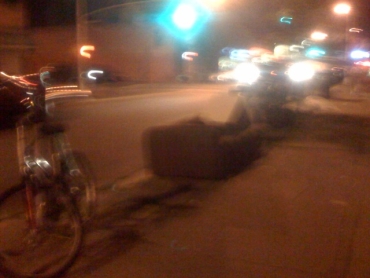 But hark! What was this? Just down the block two young gentlemen trotted off into the night, new beds on their backs.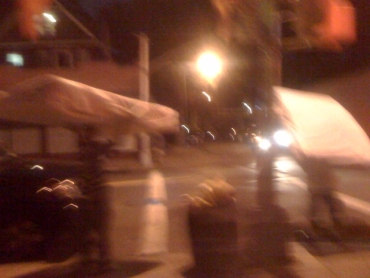 By this morning, only a wad of plastic wrap remained.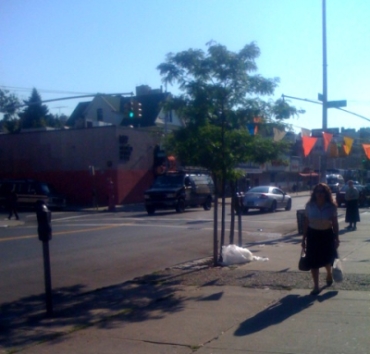 Boston has warning stickers. Lexington, Kentucky is distributing leaflets. San Francisco has assistance for low-income residents.
New York City, meanwhile, has… a Department of Health fact sheet that is, to put it generously, a little on the short side? A booming used mattress industry? A local government that's done next to nothing?
But if you see an Asian Longhorned Beetle, just call the special hotline. You'll know the bug because it's pictured on that leaflet that came in the mail last summer.