The Smart Set: a weekly events listing by Lauren Cerand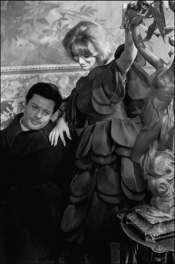 The Smart Set is a weekly feature, compiled and posted by Lauren Cerand, that usually appears Mondays at 12:30 pm and highlights the best of the week to come. Special favor is given to New York's independent booksellers and venues, and low-cost and free events. Please send details to Ms. Cerand at lauren [at] maudnewton.com by the Thursday prior to publication. Due to the volume of submissions, events cannot be considered unless the date appears in the subject line of your message.
MON 4 FEB: Critically lauded poet Tracy K Smith reads at The Poetry Project. Highly recommended. 8PM, $8. Plus, my permacrush on Brooklyn Independent is revived in its usual weekly interval.
TUE 5 FEB: VOTE. Even if you write in "Winehouse in '08."
WED 6 FEB: Don't dally, darling (don't dare!), or you'll miss the superbly of-the-moment Poetry vs Comedy Show.
THU 7 FEB: The Goethe-Institut New York kicks off a year-long program exploring "What is Green Architecture?" with a talk by Berlin-based architect Jürgen Mayer H. followed by a conversation with MoMA's Andres Lepik. 7PM, FREE [Full disclosure, as always: I am the publicist for this project]. Downtown, Gelf Magazine's Varsity Letters sports reading series (brilliant idea!) happens at Happy Ending. And, buzz buzz, Samantha Hunt reads from The Invention of Everything Else at McNally Robinson.
FRI 8 FEB: Ludlow 38, a new art space created in collaboration between the Goethe-Institut New York and Kunstverein München, opens on Ludlow Street (between Grand + Hester) with the exhibition, publish and be damned. There is a public opening from 7-9PM, FREE [Full disclosure, as always: I am the publicist for this project]. Also in the Bowery Arts District on Friday night, "Ne Plus Ultra The Hey, Hot Shot! Annual" opens at Jen Bekman Gallery.
SAT 9 FEB: "LIAISONS is a series of dances that are performed in intimate spaces – living rooms, senior centers, hospitals, galleries. Four dancers form liaisons with the audience and each other, stretching the boundary of closeness between strangers and inviting the audience to intimately gaze at the unfolding movement. The work asks questions of how intimacy is perceived in unexpected environments and how public performance is understood within private spaces."
SUN 10 FEB: Sunday Salon features a stellar line-up, including Tayari Jones– who just told me over IM that she has work out now or forthcoming in McSweeney's, The Believer, Callaloo, and a special issue of PMS: Poetry, Memoir, Story — and Matthew Cheney, and more. And the venue, Stain Bar, revolves around the literary scene and is dedicated to local booze. Me too. Also, expect an update on Kenya from (and in support of) the organizers of the series' Nairobi chapter. Highly recommended. 7PM, FREE.
Upcoming: The debut of Pilcrow Lit Fest. Like your favorite sock monkey, it's punk rock style (so get involved).