Stephen Elliott on San Francisco's Adobe Books
While I focus on things other than blogging this month, I'm running a series on independent bookstores. Below writer Stephen Elliott (Happy Baby) praises Adobe Books of San Francisco's Mission District. "A store for browsers," he calls it, "a treasure trove for a dying breed."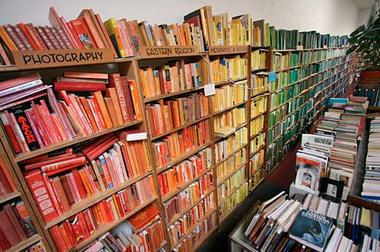 There are skylights and books everywhere, piles of them, barely organized if it all. The wooden floor's painted red and covered in cheap rugs. Short statues of monks wear Mardi Gras beads. There are cats and a faint smell of urine. The tabby lies on a row of spines, his white belly and his legs hanging over the edge bathed in sunlight. A homeless man has been sleeping between the doorway and the gate for years. His name is Swan and he feeds the pigeons. He was the victim of a terrible beating five years ago, his eyes swollen like tennis balls filled with blood. The owner of the store offered him the doorway for his protection. The owner of the building, a Holocaust survivor, doesn't like it. Swan types all day on a manual typewriter in the back of the store, at least a page or two a day. He whispers when I cross to the bathroom, words I can't make out, vague and menacing. He calls his one-page missives Agent World, makes copies at Cyber-Copy for distribution; the Pakistanis cut him a deal.
There are events here all the time. Literary magazines, singer songwriters, small presses, bring your own product and a box of wine. If you're an artist you can redesign the window display. You can hang your work. You can set-up Buddhist shrines in the loft above the doorway. Try not to knock over the paperback stacks twenty high on the old coffee table near the door. I like to hang out here on the wrecked couches, listen to Swan banging on his typewriter in the back, depressing rock piping from the small CD player, talking with the clerk about our scars. Her name is Gravity; she has a band of them around her bicep, twenty-three markings each twice as high as a staple. She has other scars littering her forearms. I have an ex-girlfriend's name cut into my ribs and little circles on the back of my hand the size and shape of a cigarette tip. I have scars on my wrist, adolescent reminders that cost me three months in a public juvenile mental hospital. We have our scars in common. Gravity's father was a magician and she was his assistant but that was West Virginia years ago and this is San Francisco today.
There's a slow pace in this bookstore. If the breeze is right curry floats in from the Indian restaurant down the block. One time an artist came in with a crew of workers and reorganized all the books by color. It took a week. The display was called Nothing Is Wrong In This Whole Wide World. It was easier to find books then. If you knew the color of the book you had a chance.

So many books all stacked precariously on mismatched furniture. Maybe I hang out here because they let me or because it smells like a less intimidating version of the crack-house I used to crash at back in Chicago. I have a tendency to feel unwelcome in most places whether I am or not, but anybody can hang out here. Crazies come in quoting Socrates. They pick up books and sit around muttering to themselves then leave the book in some indiscriminate location and return to the world of the city. For a while I dated the girl who worked here, the one before Gravity. She was German with muscles like knotted rope and her own scar that ran the length of her thigh, a trough of hard skin as thick and deep as a finger. She'd had a motorcycle accident twelve years earlier, her leg crushed to a hundred pieces. When she walked too far it hurt so she went for bike rides, hundreds of miles to Yosemite and Point Reyes. She didn't believe in chemical cleaners and would dust her apartment continually. She left the bathroom door open to avoid mold. She swam in the bay without a wetsuit. She didn't believe in taking things from people and when she slept at my apartment she brought her own soap. She was a revolutionary and was ready to bring the government down by any means necessary. She belonged to an affinity group, another word for cell. They had secret meetings I wasn't invited to and, with war looming, she came home every night excited and stinking of whiskey. When the war did come she and her group took to the streets wearing black with scarves over their faces. But the movement never really caught on and eventually she quit the bookstore to teach German in the University. And eventually we quit each other as well the way lovers do.
I've been in San Francisco seven years and hanging out in this bookstore for six. Not every day, maybe once a week, sometimes less. There are times I'm so lonely I just want to sit on the couch here and soak it in. Today is not quite one of those days. Today is just a Sunday and there's too much sun outside. I pick up a hardcover, Peacemaking Among Primates by de Waal. On the stool next to me is Thomas Cahill's The Gifts of the Jews then a rotating rack filled with paperbacks – Jean Paul Sartre, Ernest Hemingway, Judith Worrell, Kurt Vonnegut, Rupert Thomas, Albert Camus.

I could write about Adobe Books forever but I'm not sure what point I would make. This is a place that I love that will one day close, a place of comfort for uncomfortable people. I don't see how they make any money. Shoppers come in from the street, offer to check their bags. "That's OK," Gravity tells them. A couple pulls books from the shelves, laughing. I make the assumption that they are making fun and decide to dislike them.
How do I finish writing about Adobe Books? This is a store for browsers, a treasure trove for a dying breed. People come here because they don't know what they want. If they knew what they wanted they would buy it on the internet. This is a creative oasis, a medicine for a certain disease, a fountain. The art that is nurtured here will not be remembered. Among the books and the chaos, a salve for the wounded, its undocumented memory to fade with its occupants, like sidewalks drying after a light rain.

If you'd like to see your favorite bookstore mentioned, send email to maud [at] maudnewton [dot]com telling me why you love it. Please include a photograph.