Headed to Northampton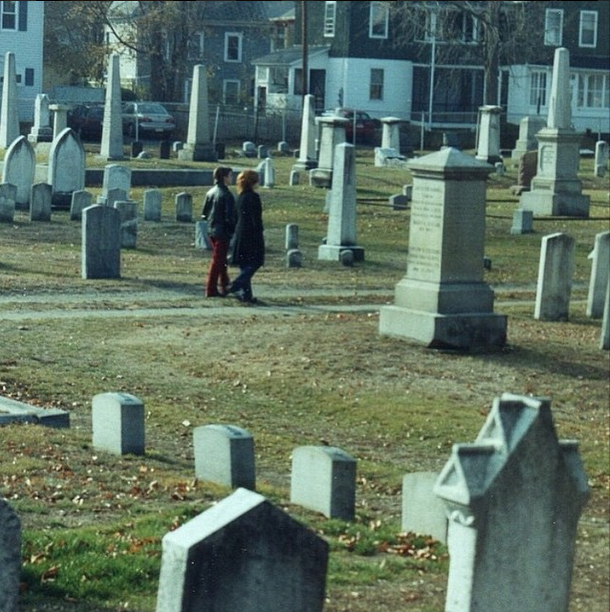 My sister moved to Northampton eight years ago. Until then, she and I assumed our ancestry was Southern down the line, mostly of Scottish and English stock, with some Irish blood that my father denies. But one day, tired of stacking paper clips on my mouse pad while eating lunch at my desk at work, I decided to conduct some genealogical research. Using Google. Nothing relevant turned up until I typed in my maternal great-grandmother's name: Alma Kinchen.
Lo and behold, a whole unfamiliar family tree appeared, and I discovered that one of my ancestors founded the very town Sister had moved to on a lark.
Stranger still, many of my Massachusetts forebears are buried in the Bridge Street Cemetery (pictured), just a block or two from her first Northampton apartment.

Of course, my family being my family, we're connected to this venerable New England line by a liaison between Nancy Kinchen and some French dude who ran off and didn't give their son his surname. A lawsuit suggests the two were married, but still, I'm guessing this caused no small scandal in 1822 Louisiana (where Nancy and her parents were living). Perhaps as an act of penance, the child was named John Milton Kinchen.
You can imagine how thrilled the Parsons family patriarch was when he returned from his sailing trip or whatever and opened the email I wrote asking them to add my grandmother to the records.
"More riff raff that should've been dealt with in the witch trials," he said.*
Then he stopped responding to my messages.

Anyhow, I haven't bought my return train ticket yet, so the site may be quiet until Tuesday. Have a good weekend.

* He did not actually say this.