When Blowhards Should Take Their Own Advice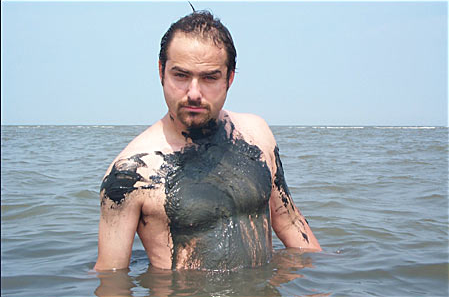 On the eve of the U.S. attack on Iraq, Neal Pollack, self-proclaimed Greatest Living American Writer, decreed that all writers, himself included, should shut up about the war. In the ensuing months, he failed to follow his own advice. Pollack offered a reprise of the original mandate a few days ago, denouncing novelists prepared to write or offer opinions about politics in the aftermath of the election.
Reading the two articles in conjunction with his website, the message is clear: we must permit Pollack to opine on political matters, but the only other writers qualified to comment are Arundhati Roy and Kurt Vonnegut. (ZZ Packer also gets a pass — as well she should — at Pollack's site.)
Today the Greatest Living American Writer advises some historical thinkers and writers on politics and dissent. An exclusive transcript appears below.
Voltaire: In general, the art of government consists in taking as much money as possible from one party of the citizens to give it to the other.
Neal Pollack: Shut the fuck up.
Oscar Wilde: Misery and poverty are so absolutely degrading, and exercise such a paralysing effect over the nature of men, that no class is ever really conscious of its own suffering. They have to be told of it by other people, and they often entirely disbelieve them.
Neal Pollack: Shut up and go test-drive a three-pronged dildo.
William Gibson: Virgil, as ever, has it down: "Dis aliter visum."
Neal Pollack: No one gives a shit what you write, so stop writing. Or at least stop quoting Virgil, you elitist fuck. Here we are in post 9-11 territory again, when every schmo with a semi-recognizable byline, myself included, felt the need to chime in with their thoughts. Now that I've thrown in some token self-deprecation and denounced this carnival of preachy blathering, let me tell you what's the actual big news of this election season: the homemade fettuccine with pheasant sauce that I consumed at a restaurant in the West Village on my publisher's dime! None of the Brooklyn hipsters were smart enough to show up at my readings, but what do you expect from people in that pile-of-shit city?
Emily Bronte: The tyrant grinds down his slaves and they don't turn against him; they crush those beneath them.
Neal Pollack: I wipe my ass with your novel, you pretentious literary Brit. At my next reading, I'll masquerade as a punk-rocker and "sing" in excruciating detail about my bowel movements and the precise way in which I intend to wipe my ass with your novel. Then I'll tear the book up and fling the pages around. Because if people are reading you, they're probably pseudo-intellectual assholes who aren't reading me. Ergo, shut up.
Frederick Douglass: "Where justice is denied, where poverty is enforced, where ignorance prevails, and where any one class is made to feel that society is an organized conspiracy to oppress, rob and degrade them, neither persons nor property will be safe."
Neal Pollack: Jesus H. Christ. Every little political development unleashes a torrent of pompous fulmination–perhaps not as great in volume as after September 11, but twice as pretentious and grating. You make me sick. You remind me of all those stupid fuckers bitching about the war and the election who didn't even get it when I masqueraded as a sex-starved, war-crime-loving yahoo — the high point of the U.S. anti-war coverage.
Plato: The punishment which the wise suffer who refuse to take part in the government is to live under the government of worse men.
Neal Pollack: Pseudo-intellectuals should just fuck off and die. Then there'd be more room for honest, gritty pundits like me. I've recently transformed myself from a smart-assed parodist of pompous psuedo-literary political fulminators into a concerned citizen who wishes to heal the cultural rift that's causing America to eat itself from within. What's that you say? You were always a concerned citizen? You stupid fuck. The trick is: I'm qualified to express my genuine convictions because I live in Texas and am uniquely creative in my conjugations of the verb "to fuck." And besides, my concern is quasi-ironic. The rest of you, except Arundhati Roy, are smug, pretentious shitheads. Bottom line: unless you're willing to physically block the detonation of a nuclear weapon, fuck off and let me talk. By the way, keep an eye out for my new book about the hardships of trying to raise a cool kid in America. And if you don't have kids, wait for the Neal Pollack movie — all about "me" as a "music critic."
Yeats: I think it better that in times like these A poet's mouth be silent, for in truth We have no gift to set a statesman right.
Neal Pollack: Shut up shuttin' up. And that goes double for poets. Shut the hell up, poets. Everybody just shut up.